With this marketing campaign, we raised $4,086 from 46 donor's in 24 hours.
For the UCF Day of Giving we aimed to had three posts scheduled for the day of and two other's that were posted on our feed leading up this day. We also created Instagram stories with steps to donate as well as shared our "Day of Giving" video as an instagram story. We also changed the link in our bio to the link to donate.
For the UCF Day of Giving we aimed to keep our tweets focused on the UCF Day of Giving. We did this by preparing three general tweets, one video, one tweet with steps on how to donate, and by retweeting @ucf.edu.
For the UCF Day of Giving we created four general posts, a day video to be released on that day, a thank you video for the next day, and we collaborated with @ucf.edu to film a Facebook Live tour of the Limbitless lab.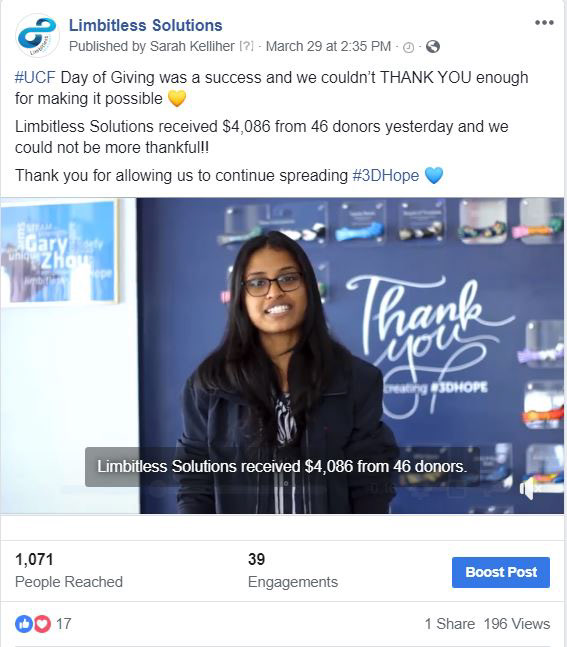 Since LinkedIn's algorithm is different and sometimes shows posts from weeks in the past, we decided not to overload this platform and risk loosing followers in the long run. So for this platform we created one post with a more professional tone.
These are two videos created by Ryan Mayers, from our PR & Media Team. I gave art direction and feedback to ensure the videos work with our other content on social media.
Created by the PR & Media Team  at Limbitless Solutions - March 28th, 2019
PR & Media Producer - Colby Clites
PR Intern, Copywriting - Sarah Kelliher
PR Intern - Ashley Rickman
Video and Film Production - Ryan Mayers